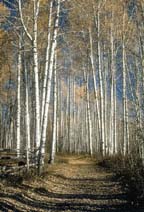 The youngest of a large family of artists and educators, I grew up in a household where more than ideas were bouncing off the walls. Poetry, painting, music, and theater were intermingled with little league baseball, raising chickens, and building backyard junkyard playhouses.
And then one day my parents hung a nametag on me and flew me two thousand miles away. My fifth grade music teacher had raised a scholarship and convinced my parents to send me to the American Boychoir boarding school. On weekends when we weren't touring all over the world or singing with some renowned symphony orchestra I'd go AWOL, skip out of Sunday morning chapel, and head down to the creek. I'd get away with it cause I always returned with a peace offering for my choir director. "Yeah I'll catch these frogs for you, Mr. Bryant," I'd say, "but you sure won't catch me eating 'm."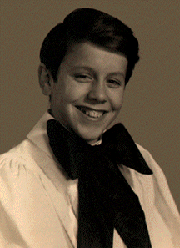 Two years of Boychoir and a Hail Mary pass through the rest of school landed me on the steps of Oberlin College. There I joined an avant-garde theater group with some amazingly gifted cohorts who, like me, were dredging up from the depths of their psyches connections to the resounding mythologies of our time. Too bad the audience never got it. Somewhere in that mythological morass I found an empty place that could only be filled by music, something I'd abandoned way back in my Boychoir days. I was tired of befuddling audiences. I wanted to entertain them. That's when the dulcimer came on the scene.
I heard my first hammer dulcimer in the summer of '72 while working as a carpenter down in the Tennessee mountains. I was mesmerized by those little left-right mallet feet dancing on that sea of strings and my infatuation snowballed into a music career. I dropped out of college, got fired from my gig as night manager of a chili joint, and started building dulcimers for a living.
Now a dulcimer has got A LOT of strings and there's A LOT of tension on those things and something about my craftsmanship produced a creation that was part instrument, part time bomb, and the fifty or sixty I built were beautiful sounding but…kinda scary.
My dulcimer playing, however, proved more reliable at holding a tune and an audience than my dulcimers. So much, in fact, that I got fired from my gig at a pizza joint because people wouldn't eat and leave; they'd stick around just to see what would happen, especially when Grey Larsen and his retinue of instruments showed up to join me. One night the dean of the local music conservatory showed up too. We had a chat, and he convinced me that a degree in music education was very doable.
A big dilapidated communal house near the university became a temporary habitat for my dulcimer factory, my budding and lifelong romance and marriage to soul mate Judy Klein, and a long folk music collaboration with Grey Larsen. Our duo recording, Banish Misfortune, took on a life of its own and by the time I got to the student teaching portion of my degree, I was concertizing all over the country at festivals, performing at inner city schools, and on city buses. I was staging street dances in Appalachian neighborhoods, running a concert series, and doing folklore projects with elderly music masters. And so it came to pass that one day after a an all-night session at a local pub, a fire drill awakened me from a deep sleep in a music history lecture, and delivered me and my education safely from the cloisters of academia back out onto the streets.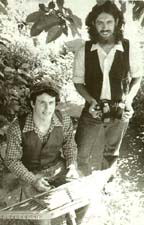 Grey and I did three records and were later joined by Pete Sutherland for three more. Our trio, Metamora, had a knack for turning old dance melodies into vivid musical journeys. I became a new father and one day, gazing upon my baby I was struck by her resemblance to a potato. The song Little Potato popped out and Metamora provided some big daddy harmonies.
In the late 80's I began stretching my vocabulary on the dulcimer to a point where I could tell stories with the instrument. I recorded many of those pieces with the flagship new age label Windham Hill. I've always been inspired by theatrically imaginative dance groups and musicians, and was overjoyed to hear that Momix was choreographing some of my music and was equally gratified to hear what the powerful Irish acoustic group Lúnasa had done with one of my tunes.
Metamora was a wonderful collaboration and when the time came to go our separate ways we all hit the ground running. I was primed and ready for new places not the least of which was home to my family and dog, the main inspiration of what was to be my new shtick. I started doing stuff that was more theatrical and word driven than what the new age world wanted to hear and my Wild, Wild Word Show was test marketed in my daughters' grade school auditoriums. An opportunity to write a piece for the American Boychoir blossomed into a full-length work, Hymnody of Earth, featuring the poetry of Kentucky farmer /poet Wendell Berry. Working with his poems about how we balance our lives with nature was like building a musical refuge. My two daughters Naomi and Mia grew up in this expanding house of song. They were in the choir I put together for the Australian debut of Hymnody involving The Young Voices of Melbourne and The Pretoria Youth Choir. Before the concert, in the dressing room, this throng of kids from three different continents erupted into a wild circle dancing song swap and it was all I could do to get the show up onto the stage.
It's a glorious privilege to make music for a choir to sing and even more exciting to accompany them, with all those voices sending chills right down my back in places like Carnegie Hall, a little church in New England and a wooded ravine in the hills of southern Indiana. I've recently started my own camp Ooolation! to bring together young singers who like to sing their guts out and travel by song.
In the fall of 97, I expanded Ooolitic Music into a record company and recorded two CDs, Pleasure, and Hymnody of Earth. The young artists on this project became The Ooolites. Songs are the air they breathe; songs from all over the world and all over the centuries; songs they learn by ear and sing at every possible occasion. They came together here in Bloomington, Indiana for a month of rehearsing, and recording and they took my music to places I'd only dreamed about. My house became like a little island-landing place for a flock of migratory birds: exhilarating, beautiful and very noisy, especially when I baked them pie.
I like to bake pie. Coupla years ago, I was commissioned to write and perform a rhyme, rhythm and flying food theater piece for a small town pie festival. Under the scrutiny of a Norman Rockwell audience of Minnesota farm wife pie contestants, I transformed myself from a sentimental old granny into a wild rapper chef, while making a pie in a wok! It went over pretty well, and you could say they ate it up.
I live in a household where nicknames and word games fly all over the place. My songs have a similar playful way in which lyrics leap freely into mouth music. As head cook and pie chef for my family, I find plenty of impromptu kitchen performances to feed my people. In fact, I 'm cooking up some more songs and camps and rhymes and vamps right now and if they're going to be ready when the guests arrive, I better go get this thing in the oven. Come and get it!